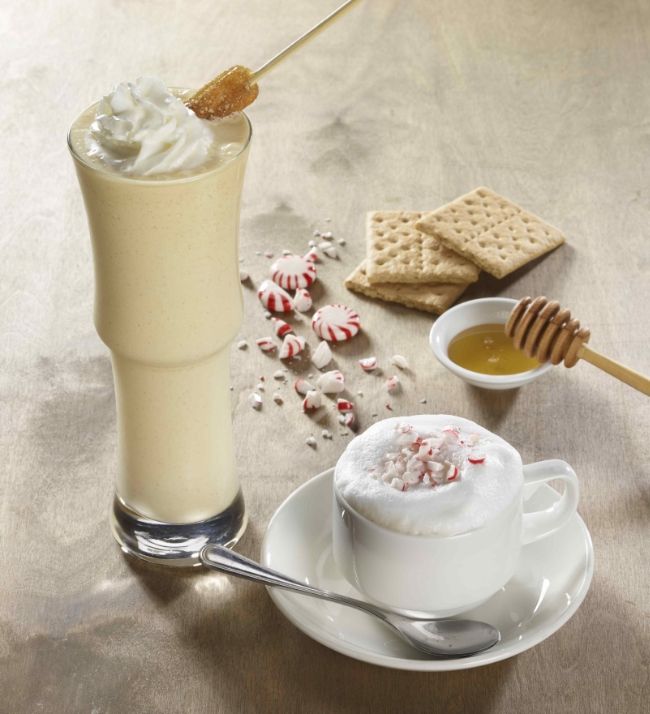 This post brought to you by P.F. Changs. All opinions are 100% mine.
The holidays are among us and we're all busy! We're trying to make sure all the gifts are bought and wrapped, the cookies are made, the decorations are up, the menu is planned and all the groceries are bought. Now it's time to take a break, let someone wait on you and treat yourself to a nice drink, dinner and dessert!
One of our favorite places to take a break is at P.F. Chang's and this year I couldn't wait to go so I could try their new dessert wontons and holiday beverages. Have you ever been to P.F. Chang's? They have an Asian inspired menu in a casual environment and this year they are introducing a whole new Fall menu which includes beverages, entree's, and dessert! My husband is a big fan of milkshakes so he had the Vanilla Bean Bourbon Milkshake while I had the Peppermint Mocha Cappuccino

(pictured above)

; both were excellent! These had the perfect combination of flavors and the alcohol was not overwhelming at all. We then had dinner and even though we were full we couldn't pass up dessert!
First up were Chocolate Raspberry Wontons. They're crispy wontons filled with a creamy chocolate-raspberry filling, dusted with powdered sugar, served with chocolate and raspberry sauces, fresh raspberries and mint.
Then there were the
Sweet Vanilla Cream Wontons; warm and crispy wontons filled with vanilla cream cheese, dusted with powdered sugar and served with vanilla and raspberry sauces and fresh mint.
Don't they look scrumptious? They were and I was so happy that I got to take some home with us too. If you treat yourself to anything this holiday season, I hope it will be one of the new drinks or desserts from P.F. Chang's. If you'd like to see what else they offer you can follow P.F. Chang's on Pinterest and follow @pfchangs on Twitter.
W
hat new menu item would you be excited to try?