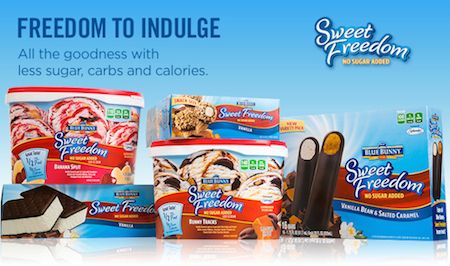 This post brought to you by Blue Bunny Ice Cream. The content and opinions expressed below are that of http://www.flourmewithlove.com/.
Before you know it November will be here and that means it's National Diabetes Month. This is very dear to me because my grandfather is a diabetic and I also have PCOS. What does that mean to us? Well we have to look for delicious treats that are lower in sugar and carbs. Luckily for us Blue Bunny has come out with a line called Sweet Freedom. What's so special about Blue Bunny®? Blue Bunny® is the first national brand of packaged ice cream and frozen novelties to offer an extensive array of no sugar added options. Sweet Freedom treats taste indulgent while still meeting key nutritional needs for the sugar conscious consumer. These delicious treats are lower in carbs, calories and they have no sugar added! So we get to indulge every once in awhile too. My husband and I love eating ice cream straight from the bowl and they offer half gallons of delicious and creamy flavors like Vanilla, Bunny Tracks, Butter Pecan and Banana Split.
The kids love to eat the cones and bars, and I can feel good about letting them have it because they're no sugar added so it's a great sweet treat!
If you'd like more information regarding the Sweet Freedom Treats make sure you visit their Pinterest page and follow along on Facebook. Don't forget November is National Diabetes Month and there is a simple way for you to remember how to manage it. With your ABCs...A A1C test; B Blood Pressure; C Cholesterol; s stop smoking. Please tell your family and friends about this new line of sweet treats from Blue Bunny®.