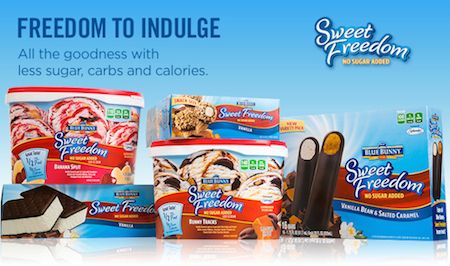 I am so excited to share with you today the new line of Sweet Freedom

treats from Blue Bunny
®

. A lot of people don't know that I have PCOS, I'm Insulin Resistant and Diabetes runs on both sides of our family. So you may think it's crazy that I run a blog about desserts! Before I cooked healthy, I baked a lot and just ate in moderation. I never worried about the sugar/carbs going into me. Then I started having some problems and was diagnosed with PCOS and Insulin Resistance. Once diagnosed I needed to find a balance where we could still enjoy some treats, but also not go overboard. What we've found that works the best for our family is Sunday through Thursday we eat a low sugar/low carb lifestyle and we're a little more lenient on Friday and Saturday. At first it took some time to get used to, however now it's like second nature. Eating this way doesn't make us feel like we're giving up anything and it's gotten my insulin and all of my symptoms under control.
So as you can see I'm always looking for products that are low sugar or no sugar added. Blue Bunny® is the first national brand of packaged ice cream and frozen novelties to offer an extensive array of no sugar added options. My family loves ice cream and we're pretty picky about it too. It has to be creamy, not too sweet, not overpowering and not taste artificial. We've tried a ton of different brands and Blue Bunny® is by far our favorite! We love all of their products, but the new Sweet Freedom line works out perfectly for us.
They offer:
• Snack Size Cone
• Ice Cream Lites
• Vanilla Bean and Salted Caramel Variety Pack
• Vanilla Ice Cream Sandwich
• Banana Split
• Bunny Tracks
• Vanilla
• Butter Pecan
The ice cream and these little treats are delicious! I love that I can let the kids enjoy them without worrying about the sugar. We love to make every bite count when it comes to our food as well as making every moment count with our family. We have dinner every night, we do family fun nights where we watch a movie together and also play a lot of games together. In the summer it gets even better because we're not on a schedule and we have the entire day together! We love going to the water park where we get to have fun, ride the slides and just enjoy being silly. We're lucky because we live less then an hour away from three parks so we have a lot to choose from. This year, and every year we're making every moment count! #MySweetFreedom
If you're looking for a delicious treat that you can indulge in I encourage you to try the new line of Sweet Freedom products. For more information you can follow along on Pinterest and Facebook.
Cheers to a summer that's filled with family, friends, memories and lots of Blue Bunny ® Sweet Freedom ice cream!